Charm
Black Sardonyx
$279.99
Make 4 Payments of $69.99. Klarna. No Fees.
A stone of protection and strength. It is said that the Ancient Greeks and Romans believed...
A stone of protection and strength. It is said that the Ancient Greeks and Romans believed Sardonyx rewarded its wearer with true love and faithfulness. Wearing this stone is thought to attract friends and fortune.
Designed in New York and hand-assembled in Europe, every Talsam charm is a marriage of precision engineering and artisanal craftsmanship.
When you receive a message sent using the Talsam mobile application, the crystals on the charms light up like a shooting star. You can use the button on the side of the charm to unlock secret messages and send SOS alerts containing your location to an emergency contact.*
Highlighted by a Black Sardonyx centerpiece that is adorned with six Swarovski® crystals arranged in the pattern of the Lyra Constellation, this charm is crafted using hypoallergenic stainless steel and coated using silver physical vapor deposition (PVD).
Details

♢ Made in Europe
♢ Black Sardonyx stone centerpiece
♢ Swarovski® Crystal Constellation
♢ Hypoallergenic stainless steel frame
♢ Coated using Silver Physical Vapor Deposition (PVD)
♢ Wear it as a bracelet or necklace
♢ Powered by Bluetooth BLE®
♢ Battery life of up to 7 days
♢ Fully charged in less than 2 hours
♢ Splash resistant (IPX3 Rating)
♢ Built-in USB-C® Connector for charging

Contents

Talsam charms are packaged inside a reusable jewelry box with a built-in tray and velvet paper lined drawer.

Every box contains:

♢ An adjustable length stainless steel bracelet

♢ An adjustable length stainless steel necklace

♢ A microfiber polishing cloth

♢ A travel pouch

♢ A custom charging cable with wall plug

Care

We recommend using the microfiber cloth to polish your charm. To keep it clean, you can wipe your charm using soap and water.

For safety instructions, please refer to the booklet that is included with your charm.

Pay Later With Klarna

With Klarna, you can pay for this charm in 4 instalments of $69.99.

To take advantage:

♢ Add item(s) to your cart

♢ Go to checkout and choose Klarna

♢ Enter your debit or credit card information

♢ Pay later in 4 instalments. The first payment is taken when the order is processed and the remaining 3 are automatically taken every 2 weeks.

Share
An Irresistible Blend of Beauty and Brains.
Talsam is timeless luxury jewelry with a heart of technology. A unique combination of precision engineering and​​ artisanal craftsmanship that is designed to support ​​true love in the digital age.
Dimensions
52x19x10mm

Real Semi-precious
Stone centerpiece

Swarovski® Crystal
Light Constellation

Hypoallergenic
Stainless steel

Water Resistant
IPX3 Rating

Est. Battery Life
Up To 7 Days

Charge Time
Less Than 2 Hours

Location only shared
for SOS alerts
Your Love, Unboxed.
Luxury and paper go together in unexpected ways. Our packaging is an unlikely marriage of extravagance and sustainability. A reusable jewelry box with a built-in tray and velvet paper lined drawer. It's a plush home for your charm and its suite of accessories.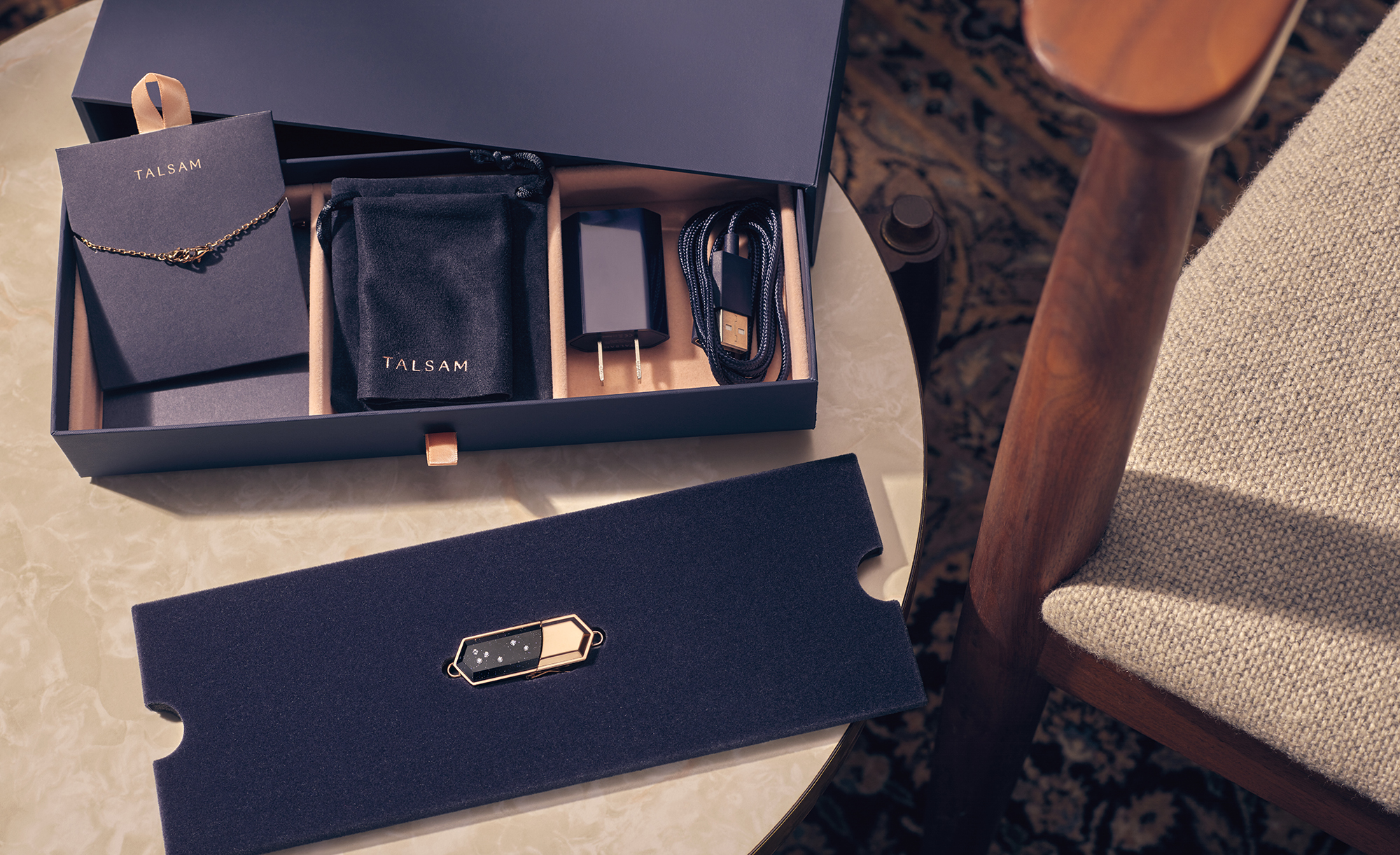 A Luxury Messaging App.
Our charms are paired with an exclusive mobile application that elevates the way people connect online with an array of elegant and practical features, including SOS alerts, secret messages, animated emoji, and a Moment Stream, a place to organize messages based on how they make you feel.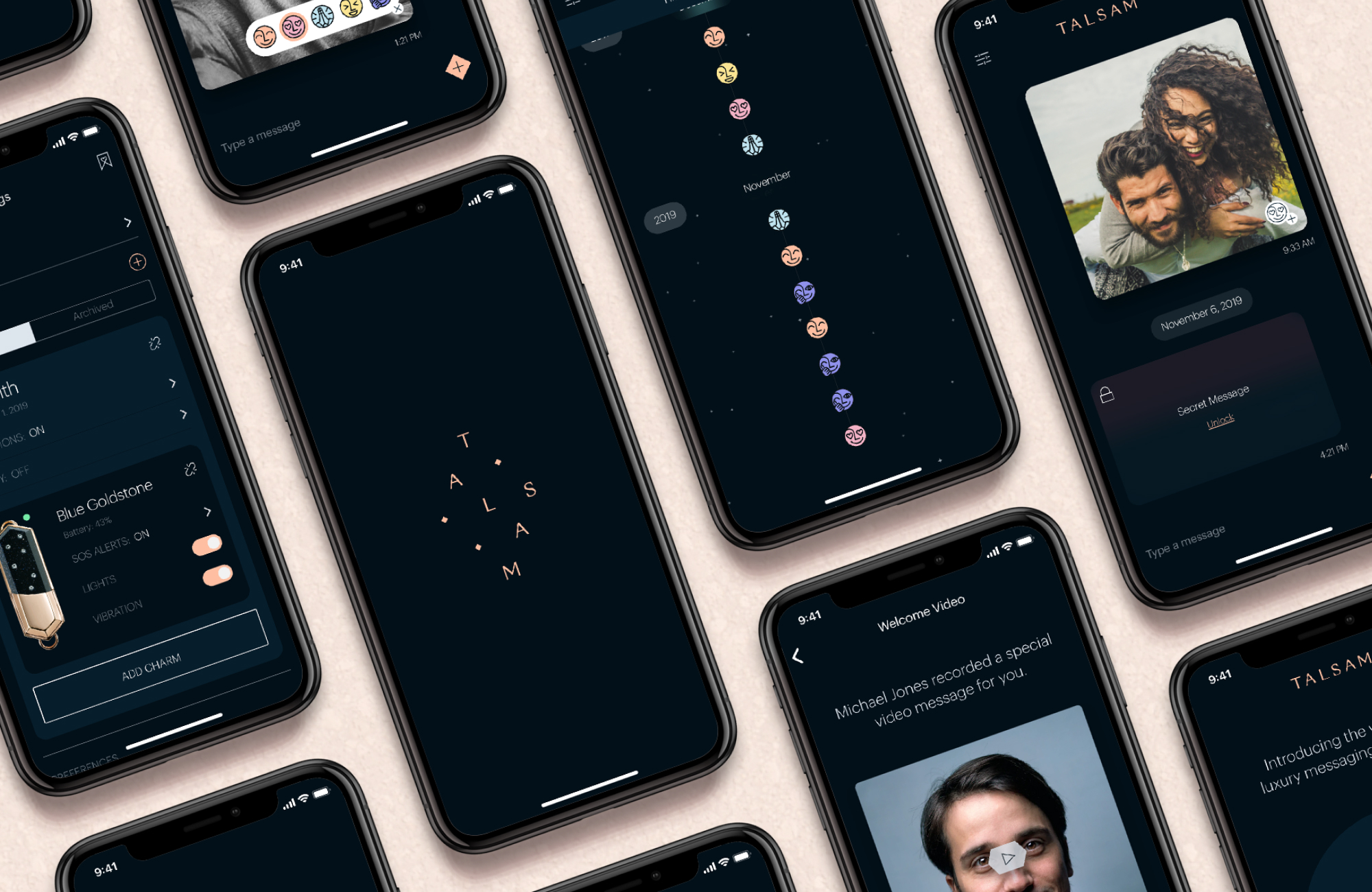 We're At Your Disposal.
Learn more about Talsam by browsing answers to frequently asked questions or contacting our Concierge team.
How Does Talsam Work?

Talsam uses Bluetooth® technology to connect to your smartphone. Every charm contains six LED lights on its face that deliver a glowing notification when you receive a message sent using the Talsam mobile app.

Talsam charms also contain a motor for delivering vibration alerts, a button for sending SOS alerts and unlocking private messages, and a USB-C® connector for charging the charm.

How Do I Send An SOS Alert?

To send an SOS alert* with Talsam, simply press and hold the button on the charm for 5 seconds.

The charm will vibrate to let you know that the alert was sent. The emergency contact(s) specified in your account will receive a text message and email containing your location, along with an automated phone call.

How Do I Send Secret Messages?

You can mark any of the following messages as secret: photos, videos, voice notes, and stylized quotes. To do so, set the Secret Message toggle at the top of the screen to the ON position before you send the message. It will now require the recipient to use two-factor authentication to unlock it.

 

What Is The Moment Stream?

The Moment Stream is an alternative view of your message feed in the Talsam app. You can tag incoming messages according to how they make you feel, choosing from one of five positive emotions: Amused, Happy, Loved, Optimistic, and Thankful.

Tagged messages are automatically added to your Moment Stream, with the associated emotion represented by a unique color and emoji. You can then browse old messages based on how they made you feel.

It's a fun way to relive positive moments from the past without having to scroll endlessly through your phone.

What Are Animated Emojis?

Animated emojis are our take on the traditional emoji. We've applied our own style to the design of every emoji, elevating it to make it look more elegant and sophisticated than standard emojis. We also threw in the element of surprise by having the emoji animate from a collection of stars.